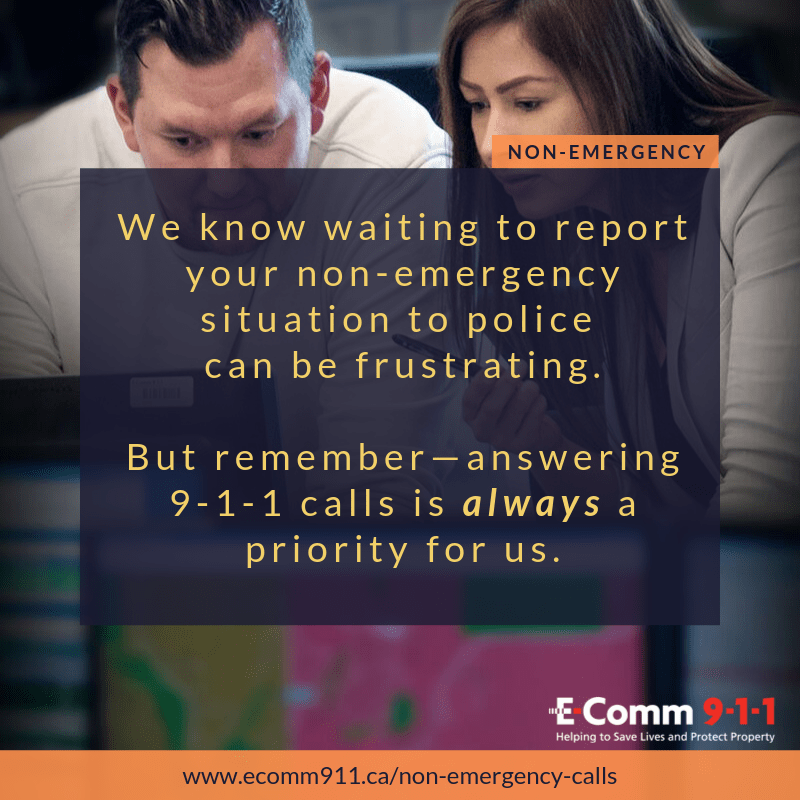 9-1-1 is for police, fire, or medical emergencies when immediate action is required: someone's health, safety or property is in jeopardy or a crime is in progress.
If you need police assistance that is not of an emergency nature (for example, your situation is a valid police matter but does not require immediate attention), please use your local 10-digit non-emergency number. Many non-emergency matters can also be reported online, at your own convenience. Find your non-emergency number or online reporting tool here. 
If you are unsure if your situation is an emergency, dial 9-1-1. Emergency call takers will help determine if immediate action is required or if you should hang-up and dial the non-emergency line.
When should I call 9-1-1?
Whenever you—or another person's—health, safety or property is compromised
Domestic disputes, attacks, gunshots, fires and/or smoke, hazardous goods incidents, downed power lines, car accidents with injuries or any other medical emergency that is a threat to life or health
An in-progress crime such as theft, break and enter or vandalism (if there is a suspect on scene) or to report an impaired driver
A serious crime that has just occurred (sexual or other assault, robbery, child abduction)
Suspicious activity (example: a stranger trying to open car doors)
When should I call non-emergency?
Reporting a crime with no suspect (example: theft of a license plate or bicycle)
Reporting a crime with suspect, but the suspect is not on the scene (example: fraud)
Reporting a serious crime with suspect, but with a lengthy delay (example: assault that occurred "last night" at a bar)
Non-emergency in progress (example: noisy party)
On-going crime issues or crimes that are not in-progress (examples: graffiti or ongoing drug dealing with no suspect on scene)
A suspicious circumstance that may indicate an ongoing criminal activity (example: suspected drug lab)
When should I call an alternate resource?
If you suspect your car has been stolen, contact your local towing company first to ensure that it has not been impounded
Contact ICBC if you have already left the scene of a motor vehicle incident
Contact BC Hydro for questions regarding power outages and restoration
Contact your local police agency during business hours for information about finger printing, criminal record checks or to request a copy of a police report
Contact the BC Residential Tenancy Branch for questions or concerns about landlord/tenant disputes
Contact DriveBC for general road conditions and closure questions
Contact your local City Services for dumped garbage, parking-related complains, concerns about traffic lights or questions about local bylaws – if there is a concern for public safety call non-emergency (ie. an overgrown tree is obstructing a stop sign)
Contact the Canadian Anti-Fraud Centre to report a scam where no money has been lost
Contact the BCSPCA and/or Department of Fisheries and Oceans for concerns related to animals that do not cause concern for public safety (i.e. molting seals)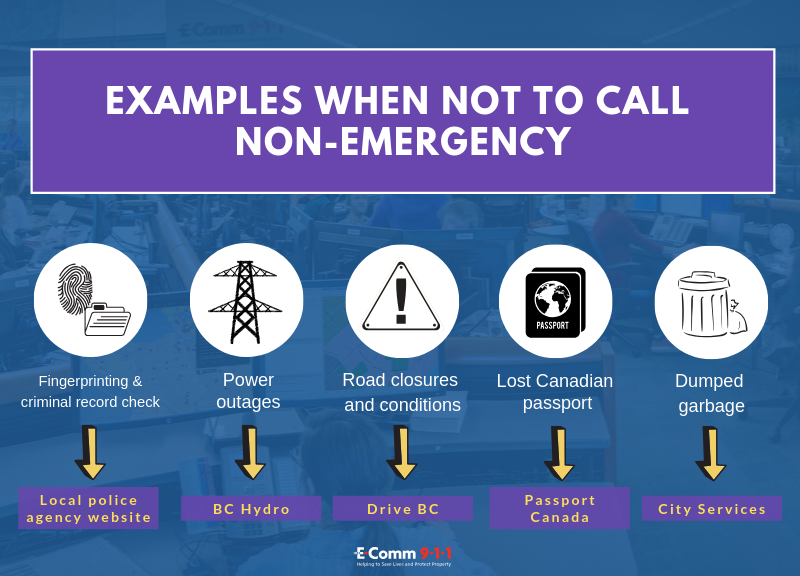 Tips for making your non-emergency call
Try to report your non-emergency during the early morning or evening on a weekday to help limit your wait time
Be ready with all relevant information when you call about your situation such as your exact address, driver's license number or vehicle license plate number
If you call 9-1-1 for a non-emergency matter, it will not result in a faster response as emergency operators will not take non-emergency reports on 9-1-1
9-1-1 call takers cannot transfer your call to the non-emergency line. You will be asked to hang-up and dial the ten-digit non-emergency number directly
Online crime reporting
Reports of crime are not accepted over email or social media
Some non-urgent crimes that meet a certain criteria can be reported online
Check to see if your local police agency offers online crime reporting
---