A team of call takers and dispatchers from E-Comm's Vancouver Island Emergency Communication Centre (ECVI) have been recognized by the Association of Public-Safety Communications Officials (APCO) for outstanding contributions and coordination efforts during a 2022 mass casualty shooting in Saanich, B.C.
Sixteen E-Comm employees were nominated for the 2023 Teamwork award for their professionalism and heroic actions during the critical incident; in addition to the team nomination, Matthew Spaans, who was the primary dispatcher on shift, won the "Telecommunicator of the Year" award, recognizing his exceptional service and professionalism.
On June 28, 2022, E-Comm's "Team Three" staff arrived for their 12-hour dayshift at E-Comm's office located in the Municipality of Saanich on Vancouver Island. Little did they know that in just a few hours, and only six kilometers away, there would be a major shooting and hostage situation at a local bank, that would leave two suspects dead and six police officers wounded.
From the time the first 9-1-1 call came in, to the conclusion of the incident that day, the team worked together tirelessly to ensure a coordinated multi-agency emergency response, all while responding to the flurry of 9-1-1 calls that came in fast and furious from witnesses.
By virtue of working in the same location, listening to the event unfold in real-time, and serving as a second ear for one another, E-Comm call takers and dispatchers had the ability to quickly engage multiple agencies and exchange information across different municipalities, all while supporting one another during and after the incident.
Operations staff at E-Comm's Vancouver location were also able to step in to absorb call volumes from the Island, highlighting one of the benefits of a multi-agency communications centre. This allowed ECVI staff to prioritize the critical incident at hand without impact to other communities.
"I'm exceptionally proud of our employees for their coordinated response during a very intense, dangerous and volatile situation," says E-Comm Vice President of Operations, Stephen Thatcher. "They remained the calm, reassuring and professional voices on the line throughout the critical incident, supporting the public, first responders, and each other."
"This is well-deserved recognition for the Vancouver Island E-Comm team, who provided invaluable support to all the officers on the ground that day," says Chief Constable Dean Duthie of the Saanich Police Department. "When a critical incident of this nature is unfolding, our officers rely on timely updates to guide their response. The actions of the E-Comm call takers and dispatchers on that day was truly exceptional."
E-Comm dispatcher and APCO Award recipient, Matthew Spaans, recently shared some of his perspectives on dispatching during the Saanich shooting on Victoria Police's "True Blue" podcast – listen here.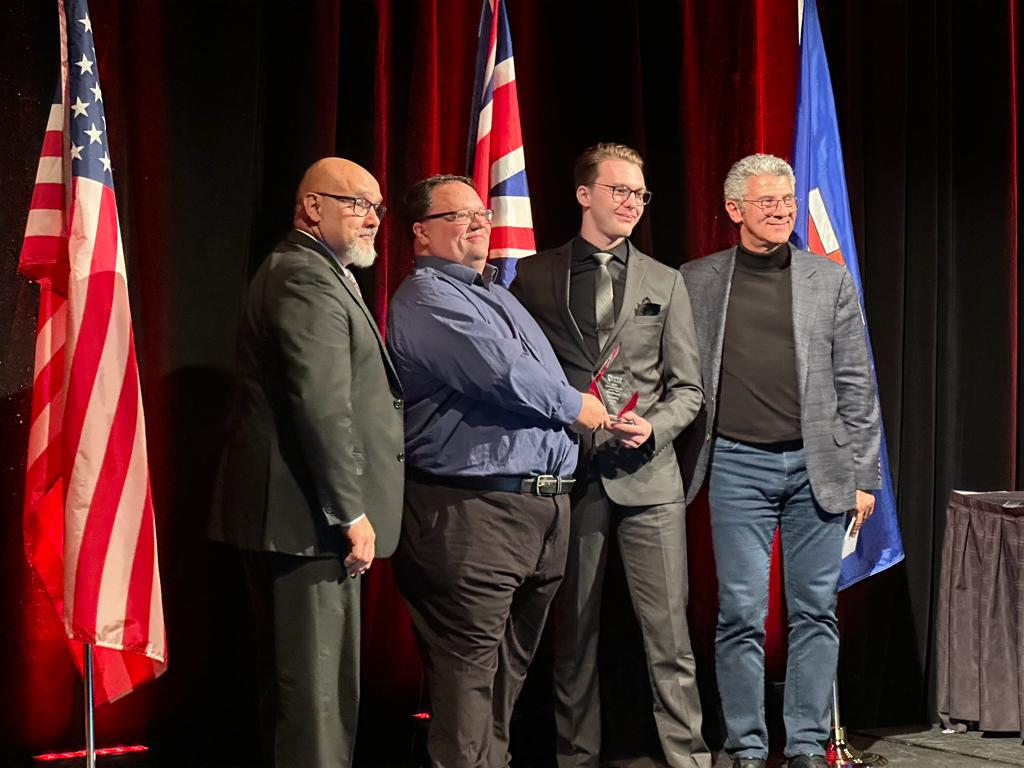 Matthew Spaans received the "Telecommunicator of the Year" award during a presentation at the APCO Canada 2023 Conference and Trade Show in Calgary, Alberta on November 22.
-30-
About E-Comm
E-Comm is the first point of contact for 9-1-1 callers in 25 regional districts in British Columbia and provides dispatch services for more than 70 police agencies and fire departments across the province. E‐Comm also owns and operates the largest multi‐jurisdictional, tri‐service, wide‐area radio network in the province used by police, fire and ambulance personnel throughout Metro Vancouver and parts of the Fraser Valley.
Media contact
E-Comm
604-215-6248